Phantasmat Collector's Edition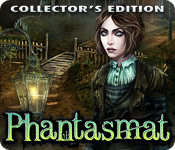 After crashing your car in the middle of nowhere, you stumble upon The Drowned Dead Hotel, a lonely forgotten structure leaning from a cliff. Beneath lies a dark and cold lake that used to be a lively town. What secrets are buried at the bottom of the muddy waters? Who are the mysterious inhabitants of the hotel? Dive into Phantasmat, an incredible Hidden Object Puzzle Adventure game, and get to the bottom of a long forgotten tragedy.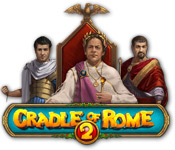 Welcome back to the city on the seven hills! Rome was one of the most powerful and beautiful capitals of all time. Write your own history of the Roman Empire in the engaging Match 3 game, Cradle of Rome 2. Journey through incredible matching fun and the exhilarating process of building the city. Experience the new world of Rome from the cradle to the glory! Solve challenging minigames and draw blueprints to turn your small settlement into the flourishing empire.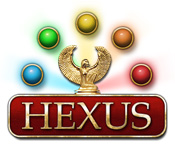 Become a powerful Pharaoh and construct a town in ancient Egypt! Explore Hexus, an exciting Puzzle game, for tons of fun! Work your way through countless levels and tackle menacing minigames as you go on the hunt for incredible artifacts. Create your avatar and decorate your town as you see fit. Try your hand at ruling an entire country in Hexus!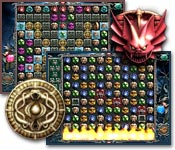 Banish the evil spirits from the house that is cursed and possessed by ancient evil creatures! Save the Cursed House using your Match 3 skills, and ward off the ghosts! Gather magic power for an ancient amulet, and use its power to restore the house to its former beauty. Match up the different objects and save the day in Curse House!

Season Match: Curse of the Witch Crow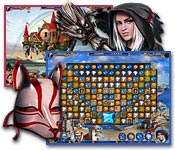 Enter a magical fairy-tale world and overcome the evil Crow Witch! After the Crow Witch captures the Months, the world may never see a New Year again! Help her desperate captives escape using your Match 3 talents! Master minigames and find helpful items in Hidden Object scenes in Season Match 3: Curse of the Witch Crow. Free the Months and save the day!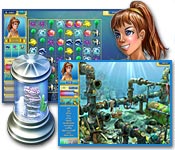 Help Annabel and Harold organize their pet shop by diving and collecting colorful sea creatures in Tropical Fish Shop 2! After finding an incredible treasure, Annabelle and Harold are able to move their pet store into a new spacious building. Help them get down to business and equip and arrange the new bigger store in this exciting Match 3 game!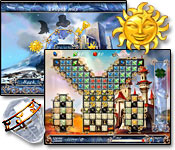 The story of Season Match starts when the Snow Queen has her magic mirror broken, and decides to make cold winter stay forever in the fairy-land. You will set out on a legendary journey to find the pieces of the broken mirror, put them together and beat the Snow Queen. So, get ready to use the wisdom of 3 beautiful princesses and complete 260 collapse arcade levels with a bonus of extra 100 levels, available upon collection of all the trophies.