Mahjongg Dimensions Deluxe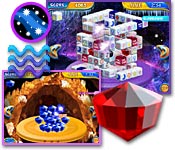 Journey through a symphony of dimensions with Mahjongg Dimensions Deluxe! Reinventing the classic game of Mahjongg, Mahjongg Dimensions adds a 3D twist. Now you can enjoy this brand new game, featuring gorgeous graphics, a sweeping orchestral soundtrack, and hours upon hours of gripping tile-matching gameplay! With tons of levels, multiple game modes and trophies, Mahjongg Dimensions Deluxe is one game you do not want to miss.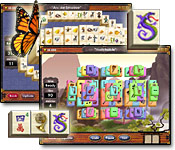 Call in sick and unplug the phone! The third installment of the award-winning Mahjong series lets you choose from three different play modes, create tile sets and backdrops, make layouts to share, and chat with players using in-game messaging. The enthralling fun of Mahjong is something that everyone in the family can enjoy!

Mahjong Escape Ancient China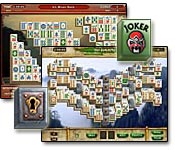 Your adventure begins over 4000 years ago in Ancient China. Match the Magic Gold tiles and travel through 11 Dynasties, unlocking ancient wisdom on your way to collect the lost Dynasty treasures. Includes two ways to play: Dynasty Adventure & Classic Mah Jong solitaire. Enjoy over 175 unique levels. Escape today!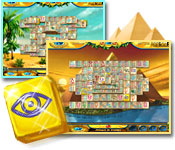 No country in the world is as mysterious as Ancient Egypt! Help the adventurer Deanfield in his search for the lost temple! Follow the clues through the blistering sands of the desert, to the fertile banks of the Nile, and reach the mighty pyramids. Correctly combine the timeless hieroglyphics using your Mahjongg skills and enjoy the mythical atmosphere in Ancient Egypt! Discover the hidden tomb and dive into adventure!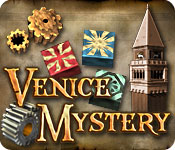 Travel through the beautiful city of Venice, one of Italy's most intriguing cities, and solve an ancient mystery before Venice sinks into the water. Magic puzzle levels will guide you to thirteen forgotten paintings that hide a lost secret. Will you be able to uncover the paintings in time and discover the old machine that can save Venice?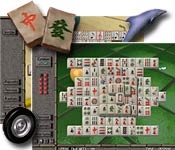 Play mahjongg solitaire in any of twelve unique ways with the exciting and extremely versatile Mahjongg Variations. This game features 16 layouts, 16 backgrounds, and 800 unique puzzle levels. Choose how to play: Select regular modes with classic rules or new modes where you can do things like invert columns, match doubles right away, zap out tiles, and test your memory.